In any company, visitors are often the most challenging moving parts of its physical security. That's why a simple check-in at the reception desk is no longer an option – especially at high-security organizations.
A sustainable, integrated visitor management solution should elevate safety and security. It should allow organizations to control who has access to their premises and track them, at all times.
This technology is easy to use, creates a safe working environment, and streamlines admin. But, why is it necessary? Below, we explore why visitor tracking is so important for organizations with high security.
Why is Visitor Tracking So Important for Places with High Security?
Today's organizations have to contend with both cyber and physical threats on a daily basis. Unfortunately, with most of the focus on cybersecurity, physical security can become the weakest link.
A poorly controlled visitor management system leaves people, infrastructure, and data vulnerable. Threats include things such as intrusions, breaches, theft, and vandalism.
Organizations that require high levels of security are equally vulnerable to emergency situations. For example, emergencies caused by natural disasters or fire. In these cases, organizations need a visitor tracking and alert system that provides a verifiable log of every single person who visited the building. This enables them to safely evacuate everyone from the facility.
In high-security environments, you need tracking software that can quickly and accurately verify an ID. To identify threats and expedite the response, you also need specialized features. These include things such as real-time location tracking, heat mapping, and geofencing.
To be prepared for an event that could compromise your employees and business assets, you need robust technology. It should be able to handle a variety of scenarios and any number of people. This is more important than ever before – especially in the wake of the COVID-19 pandemic. Real-time visitor tracking enables organizations to track movement internally, which is incredibly helpful for contact tracing.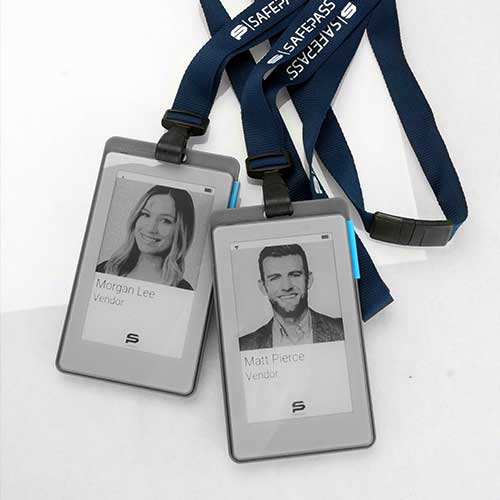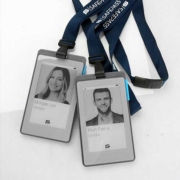 Our SafePass Visitor Management System consists of a trio of tried-and-tested integrated components to ensure complete security for any type of situation:
wearable technology badges
cloud-based visitor management software
robust visitor check-in systems
A unique feature of the SafePass badge is that it can relay real-time instructions and updates to visitors. This helps to keep them informed and is especially useful during emergency situations.
High-security Facilities and Businesses where Visitor Tracking Systems are Essential
Government facilities, where managing security, personnel, and access is par for the course. These include TSA facilities, military bases, prisons, courthouses, and municipalities.
Research and development (R&D) facilities where companies innovate and develop new products and services. These include pharmaceuticals, semiconductors, and technology companies.
Educational institutions where security on campus is paramount. These include buildings and facilities accessed by students, staff, visitors, service providers, volunteers, and contractors.
Businesses, especially large, multifaceted business environments and multi-level organizations. Even the most robust security team can easily be overwhelmed here.
Manufacturing companies that need to protect trademarks and intellectual property.
Data centers. Places where customer data privacy and the safeguarding of digital and intellectual property are of the utmost importance.
Medical institutions. These include hospitals, research labs, and biotech companies.
Utility companies such as natural gas, electricity, water, and telecoms.
High-security areas and buildings at airports and maritime facilities
The Advantages of a Visitor Management System with Real-Time Location Tracking
Better Visibility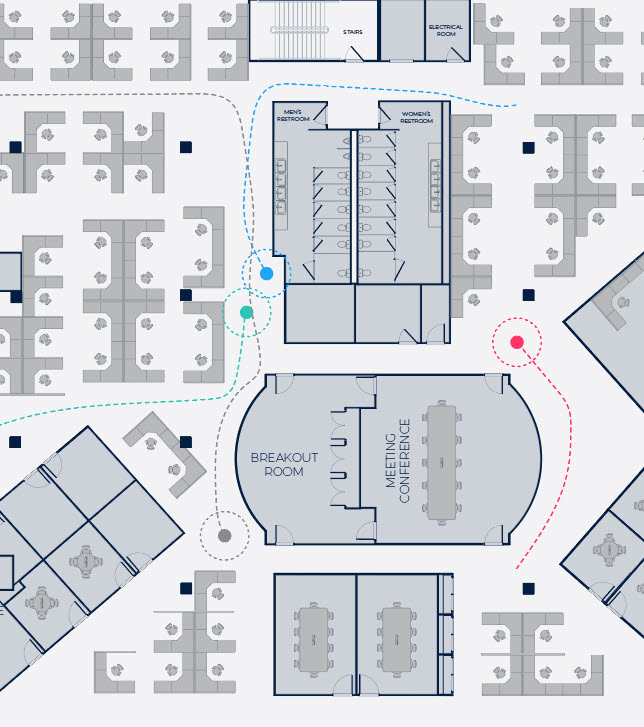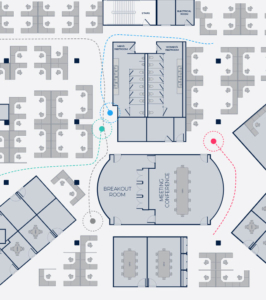 The SafePass tracking algorithm leverages existing Wi-Fi infrastructure. Our high-tech, interactive SafePass badges also have embedded sensors. These provide real-time tracking information for each visitor.
The E-paper technology makes the badges reusable, digital, and smart. They display a range of information, including a highly visible photo of the visitor and other vital information. Integrated with the Visitor Manager Software, this greatly enhances your facility's security.
Improved Security and Reduced Risk
With SafePass, you can reduce risks during emergencies. You are able to alert the security team to the exact location of each and every visitor. By sending them push notifications, you can also keep visitors informed and updated. For instance, they can receive instructions on how to proceed to safety.
Unknown visitors without a SafePass badge could pose a threat, and can immediately be reported. In the case of a breach, theft, or sabotage, the SafePass visitor management system can identify which visitors were at the location where the incident took place. Thus, a visitor management system with real-time location tracking can assist investigations.
Internal Geo-Fencing
Internal geofencing is when virtual boundaries are created around specific areas. It alerts the system when an unauthorized person enters or leaves a 'fenced-in' or 'fenced-out' location.
With real-time location tracking, you can also identify which visitor enters a restricted zone. This facilitates better theft prevention and asset control.
SafePass is the only visitor management system with the ability to create custom internal and external geo-fences.
Trends and Analytics
Visitor management software saves time and money through streamlined registration and check-in. It reduces paperwork and visitors waiting in queues at reception. All information is securely stored in the Cloud. You can access visitor logs, movements, time spent and locations visited on-demand to analyze visitor patterns.
By monitoring trends, you can put your resources to better use where they are needed. As a result, you can improve productivity, maintenance, and more.
Recording and tracking how visitors use your facility increases safety and security. It allows owners to manage access and gather accurate data about visitors' movements. You can keep tabs on the length of their visits and streamline the experience for returning visitors.
To adapt to changing technologies and safety and security scenarios, visitor tracking management software needs continued re-evaluation and upgrading. These include risk assessments, threat landscape mapping, and management of cybersecurity measures.
Comprehensive visitor management software with digital badges offers organizations unrivalled safety and security. By tracking visitors' real-time locations, you can better identify threats. You can see exactly who is where and when to improve security. At the same time, you ensure optimal safety for your visitors.
Ultimately, a digital line of defense helps prevent, minimize, and defuse security threats. It's what SafePass is all about.