How SafePass Keeps Global Facilities Secure
Visitor Management System
The SafePass Visitor Management System seamlessly integrates with our reusable and eco-friendly wearable tech badges to help corporate facilities monitor and control all visitor movements.
Real-Time Location Tracking
The SafePass Visitor Management System support smart buildings with real-time location tracking of visitors. SafePass VMS can handle low priority routine functions and free security personnel to focus on higher priority responsibilities.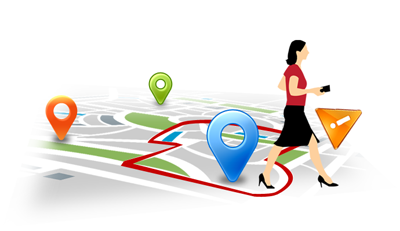 Virtual Geofencing
The SafePass Visitor Management System equipped with wearable technology badges can establish invisible, boundaries (geofences) to alert and track key assets, help increase employee safety, and provide location-based marketing for better allocation of resources.
SafePass Visitor Manager
Our customizable software is hosted in the cloud. With our VMS software, access management can be configured to meet a facility's security needs. Visitor data is stored using blockchain technology to prevent tampering while ensuring accurate and reliable visitor logs.
SafePass Wearable Tech Badges
Currently, paper name badges or expensive PVC plastic card badges do not offer any smart or tracking elements. Due to their disposable nature, these products significantly increase costs and administrative burden. Additionally, the waste generated by using paper or plastic name badges effects our natural environment, further increasing carbon footprint and overall cost.
The SafePass wearable technology badge is the first of its kind. Our digital, reusable, and smart-tracking visitor badge allows security staff to know where visitors are located at all times and provides access oversight to every aspect of a facility while improving the facility's overall sustainability.
Secure & Authenticating ID Scanner
The SafePass ID Scanner uses the latest and best in ID verification and authenticating technology.
Authenticating an ID quickly and accurately ensures consistent security in any environment.
Drop an approved government ID into the insertion slot in any direction for fast and easy ID photo and information capture.
We also offer a passport scanner which scans both approved government ID's and passports.