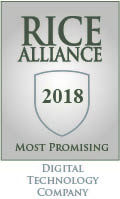 SafePass, Inc. was recognized among the 10 Most Promising Digital Companies at the 2018 Texas Digital Summit hosted by the Rice Alliance for Technology and Entrepreneurship and Station Houston at Jones Graduate School of Business, Rice University on Dec. 6.
Artificial intelligence, blockchain, Internet of Things and machine learning were represented among the 40 who presented their four-minute business pitches to an audience of more than 300 people including investors and industry experts. The Houston entrepreneurship community is carving a niche for enterprise technology, which plays to the strengths of Houston's top industries of energy, life science and advanced manufacturing.
The one-day event culminated in an announcement of the Rice Alliance for Technology and Entrepreneurship 10 Most Promising Digital Companies chosen from 40 presenters and judged by investors and business leaders in attendance, based on the companies' business plan presentations and investor feedback.
Rice Alliance managing director Brad Burke, announced the winners of the I.T. and Web Technology Company awards at the event. "Every year the quality of companies improves. This year we had a diversity of companies including artificial intelligence and big data management. We were pleased to see the vast majority of companies from the Houston area, demonstrating that Houston is a hub for enterprise technology solutions."
Sponsors of this year's IT and Web Venture Forum included: Insperity, Accenture, Greater Houston Partnership, Winstead, JP Morgan Chase & Co., Anadarko, Vinson and Elkins LLP, Mercury Fund, PKF – Texas, Norton Rose Fulbright, Dell, GOOSE Society of Texas, Houston Angel Network, RedHouse Associates, Houston Exponential, Texas Halo Fund, TMC Innovation, The Cannon, and TiE Houston.
About the Texas Digital Summit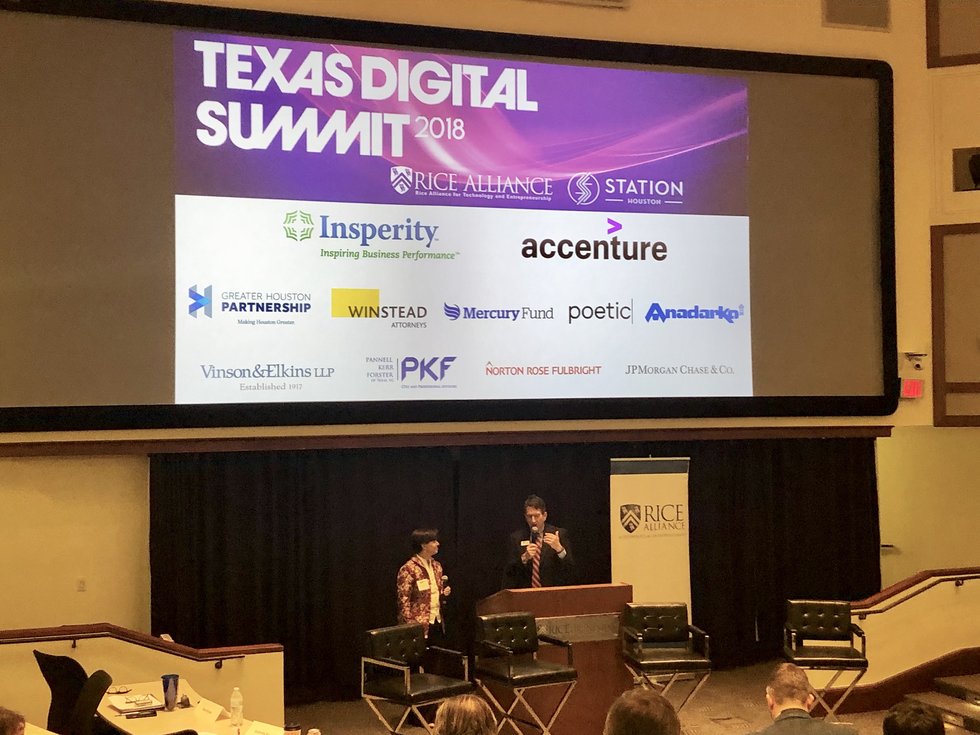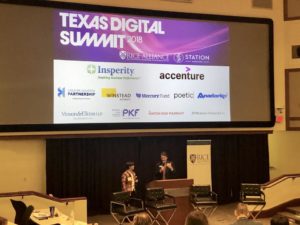 The Texas Digital Summit (TDS 2018), held on December 5th and 6th, connects the most promising tech startups with corporations and investors seeking transformative innovation and digital strategies. Texas digital summit is the leading conference for industrial innovation, bringing together experts in AI, automation, blockchain, and the connected worker. For two days, representatives from Industrial and Technology companies will discuss transformative technology and how it will affect Texas companies at the Jesse H. Jones Graduate School of Business, Rice University.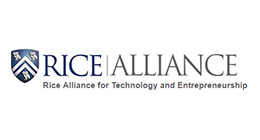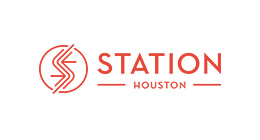 Information About the Organizers
Rice Alliance for Technology and Entrepreneurship: The Rice Alliance for Technology and Entrepreneurship (Rice Alliance) is Rice University's globally-recognized entrepreneurship initiative devoted to the support of entrepreneurship education, technology commercialization, and the launch of technology companies.
Since inception, more than 2,330 early-stage companies have benefited from participating at the 190+ programs hosted by the Rice Alliance and raised more than $7.1 billion in funding.
Learn more at www.alliance.rice.edu.
Station Houston: Station Houston exists to help entrepreneurs build better tech startups by making their journey easier, less lonely, and a lot more fun.
Launched in March of 2016, Station Houston's vision is to transform Houston into a world-leading hub for technology innovation and entrepreneurship. Our mission is to serve entrepreneurs by connecting them with talent, mentors, customers and capital build high-growth, high-impact tech startups.
In the past two years, the Station community has grown to include over 180 startups, 350 members, 130 mentors, and high-impact strategic partnerships with corporations that represent the key industries driving Houston's economy.
Learn more at www.StationHouston.com.