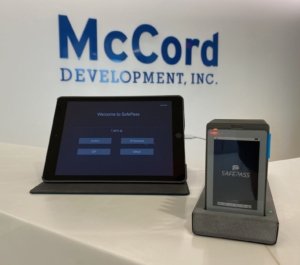 We are excited to provide McCord with SafePass' leading-edge technologies and working together to build relationships in the commercial real estate market.  McCord is Houston's premier real estate development firm and SafePass is the most advanced visitor management system available today.  Our combined and thought-leading initiatives provide customers with a truly innovative experience.  Mr. Nick Cardwell, McCord's VP of Innovation, provides exemplary values and charisma which continue to lead technologies into a new era.
"Working with McCord has been an absolute pleasure.  Every contact point and interaction with their team has been productive, positive and inspirational.   I am excited as we move forward together, further progressing smart city technologies in Houston and beyond."
Generation Park, one of the world's largest privately held commercial developments, is a master-planned business and lifestyle destination in Houston, Texas. Over a quarter the size of Manhattan and with convenient access to all major land, air and sea transportation corridors in Houston, Generation Park is driving the expansion of one of Houston fastest growing economic and residential centers, Lake Houston. Generation Park's flagship entertainment and lifestyle destination, Redemption Square, is home to a growing collection of curated retailers, restaurants, and many future developments.
For more information, please visit generationpark.com.
About McCord Development, Inc.
McCord is a Houston-based opportunistic real estate company with a longstanding track record of creating substantial value through the acquisition, development and management of office, industrial, land, single family, and multifamily assets.
For more information about McCord, please visit them online at www.mccord.com.